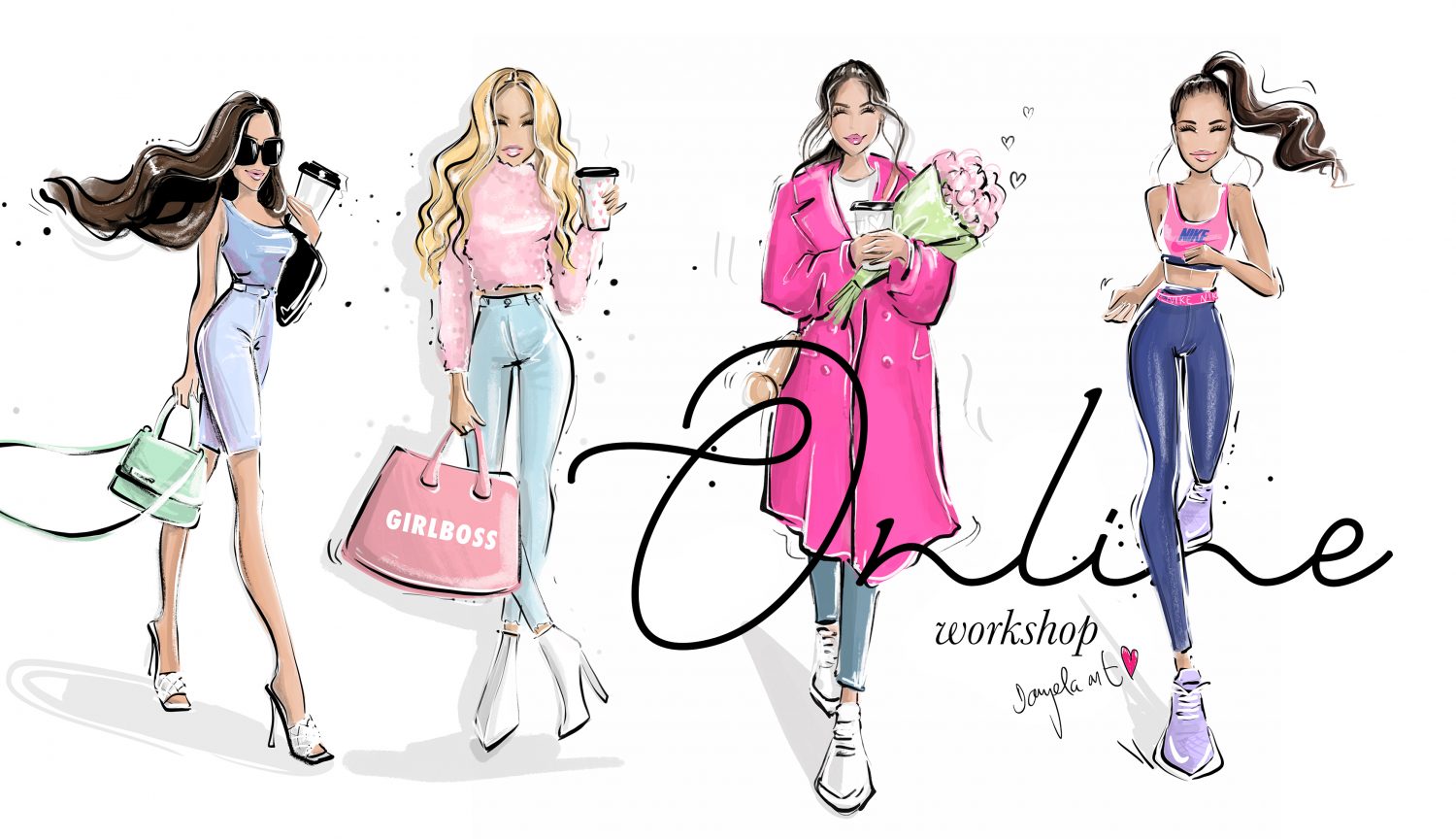 Your favorite WORKSHOP OF FASHION ILLUSTRATION with Danyela art is here in a new style!
We have adapted to the current long-term situation, when live meetings are very limited and we have decided to prepare for you an ONLINE WORKSHOP OF FASHION ILLUSTRATION, which you can enjoy comfortably from your home!
How is this workshop different from the classic one?
No difference at all!
Although we will not meet personally, but through the screens, each participant will receive everything needed to complete this workshop – an entrance bag with drawing supplies, a gift from Danyela art, gifts from our partners and a sweet treat.
And what is the best thing about this workshop? This workshop can be attended by anyone, no matter where you are.
What is FASHION ILLUSTRATION ILLUSTRATION and how does it work?
It is an interactive and creative workshop for gaining experience in creating fashion illustrations. We offer you a pleasant relaxation from everyday worries, anti-stress time by creating your own fashion portrait. The workshop is intended for complete beginners as well as intermediate students. You are provided with the help of the author during the entire process. Following a special process according to Danyela art, you will create your own work of art at the workshop – step by step.
What is included in the price of workshop?
price for one person
participation in an online fashion illustration workshop led by illustrator Daniela Pavlíková
welcome package with a gift from Danyela art and from our partners *
DRAWING MARKERS NEEDED FOR CREATION OF THE FASHION PORTRAIT*
working with a sketch and proportions of the body
"Clothing" of the character
Drawing  your own portrait
gaining new skills and experiences with drawing
special illustration aids for drawing and creation are available*
themed sweet treat from Taky maly kolac – also part of the package*
consultation with the author during the workshop
FASHION ILLUSTRATION ONLINE WORKSHOP
4.3.2023, 15:00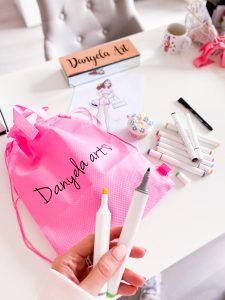 In order to make our online workshop as authentical as possible with the personal one, we recommend to dress comfortably on the day of the workshop, choose your favorite outfit, prepare your favorite drink and just enjoy 2-3 hours of work with our Danyela art.
*If you have drawing supplies at home, or you have experience with drawing, it is possible to buy this workshop WITHOUT AN ENTRY PACKAGE and the necessary things will be delivered to you electronically.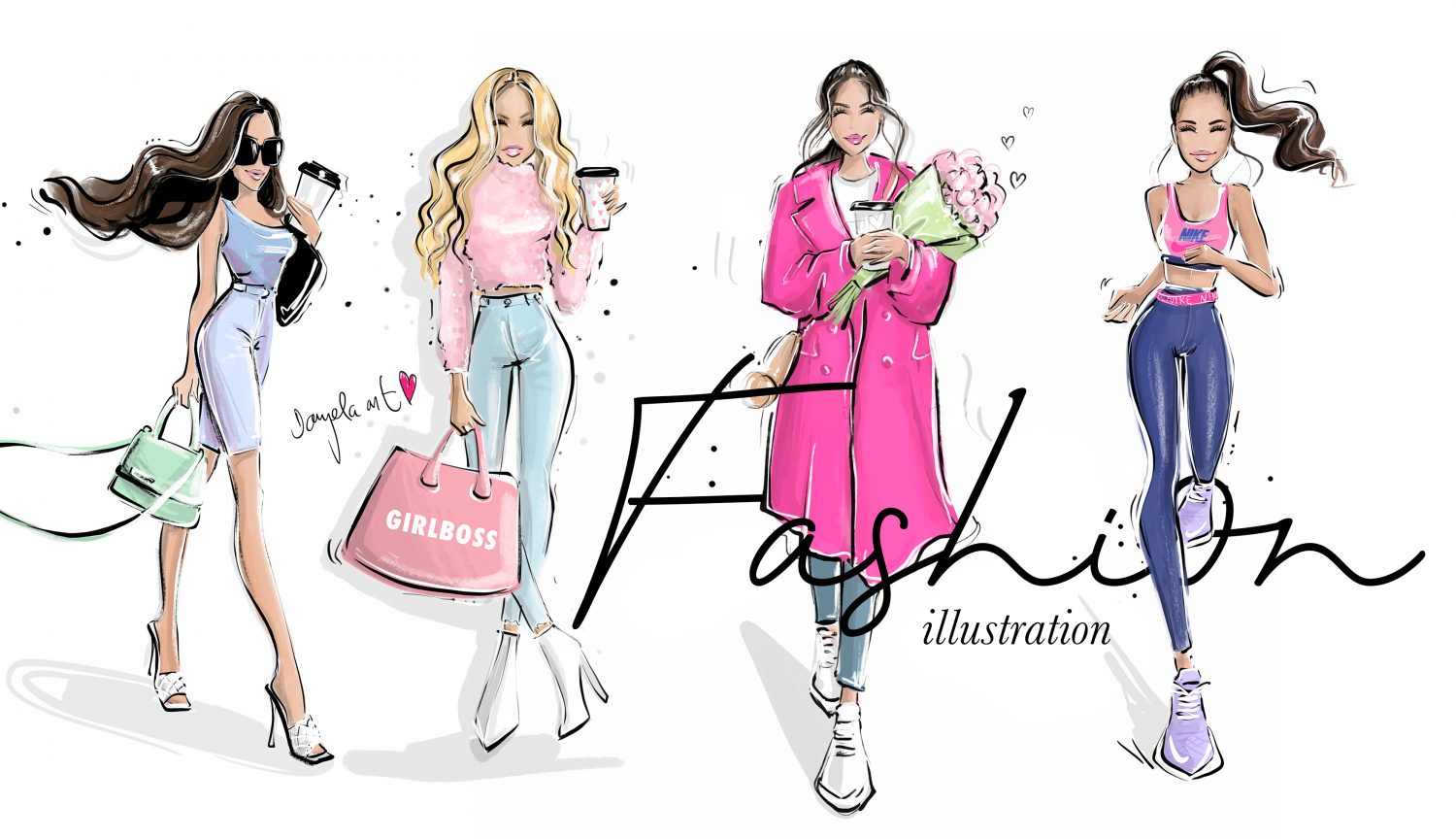 *You have a choice of two price types of the workshop – with an ENTRY PACKAGE with gifts and drawing supplies, or the workshop WITHOUT A PACKAGE and supplies from us. Click on the type of workshop you are interested in in the "product" options.
After we receive the order and payment, we will send you information emails to you with further instructions and important information. We accept payment in advance for the workshop. Cancellation of participation is not possible. Workshop with package of supplies and gifts is possible to order only in EU. Package will be sent at least one week in advance. We do not hold responsibility for delayed delivery caused by the carrier company.
The workshop will be accessible only to registered participants who order it as a product. Workshop packages will be sent by courier 2-3 days before the workshop.