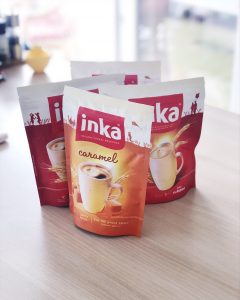 Prešiel mesiac, čo mi do života vstúpila nová "káva". Mala som totiž možnosť ochutnať a otestovať kávovinovú zmes, ktorú som doteraz poznala len od mojich tehotných klientiek či kamarátok. Určite veľa z vás pozná náhrady klasickej kávy, ale ja som to, popravde, ešte nepila a bola som aj trošku skeptická.
Je to vyrobené zo pšenice, je bez kofeínu a chcela by som vedieť, ako to môže nahradiť chuť kávy. Plus pri tomto type nápoja som si popravde predstavovala horkú a nechutnú chuť. A predstavte si, ono to tak vôbec nebolo!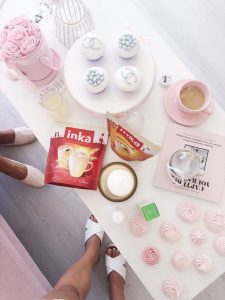 INKU som vyskúšala hneď večer, ako som sa vrátila domov zo štúdia ako "kakauko" pred spaním. Ako prvú variantu som vyskúšala tú s karamelom a bolo to, naozaj, akoby som sa vrátila do detských čias jedálne a bielej "kávy", ktorú nám raz za čas výnimočne porciovali.
Na ďalší deň ráno som si zaliala horúcou vodou klasickú INKU bez príchute, doliala kozie mlieko, ktoré pijem obyčajne aj s kávou a deň sa mi mohol začať. Ja som si tento nápoj jednoducho obľúbila!
Na oficiálnej stránke produktu som našla aj množstvo lákavo vyzerajúcich receptov na drinky a koktejly z INKY a tak som sa rozhodla jeden z nich vyskúšať. Jedine trocha iným spôsobom a tuto môžete aj vidieť, ako.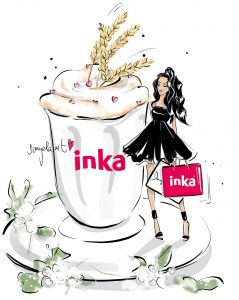 Tak aby ste vedeli, aj takéto dobroty môžete servírovať svojím hosťom, pripraviť drink k posedeniu na terase s priateľom, alebo si len jednoducho užiť chvíľku s knižkou v ruke a INKOU vedľa. To, aké ingrediencie použijete je len na vás, myslím si však, že práve pre tých, ktorí kávu nepijú, je to ideálna náhrada na posedenie s priateľmi.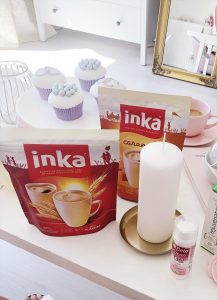 A viete čo je na tom najlepšie? Že cena za jedno balenie sa pohybuje okolo dvoch eur a stačí si zbehnúť len do najbližšieho Lidlu.
Som rada, že som to konečne ochutnala a už teraz sa teším na jesenné a chladnejšie počasie, keď sa mi bude žiadať zabaliť sa do deky s niečím horúcim v hrnčeku a ilustrovať.
Majte sa zatiaľ krásne a užívajte leto.
Vaša Daniela